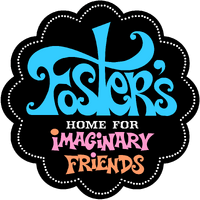 Welcome to Imagination Companions, the Wikia about the Cartoon Network series Foster's Home for Imaginary Friends.
The series, which premiered on August 12th, 2004, is about a place where imaginary friends go to be adopted after being left behind by children who have outgrown them. The home's founder is dear old, lovable Madame Foster, and contains many wacky residents. Leading the way is Blooregard Q. Kazoo (a/k/a "Bloo" for short), who along with his creator, Mac, join other imaginary friends like Wilt, a one-armed basketball player; Eduardo, who protects those from everything but is scared of even houseflies; the sanity-challenged Coco, who appears as a hybrid of a bird, an airplane and a tree; the stuffy Mr. Herriman, an amorphized rabbit who still lives in the Edwardian era, and Madame Foster's granddaughter, the overworked and lovable Frankie, who takes care of everyone. Other friends that have been part of the residence are Fluffer Nutter, a pink squirrel; The New Guy, who once took ofense to Bloo's sense of humor (or so it seems); one imaginary Prince Charming, who used lame pick-up lines on Frankie when he first arrived; and Jackie Khones, a green one-eyed stick figure with a deep voice. The series ended on May 3, 2009 with the final sixth-season episode "Goodbye to Bloo".
Episode and DVD Season lists, character information and other trivia about the Craig McCracken created series can be found here. You are welcome to expand our Wikia as needed.