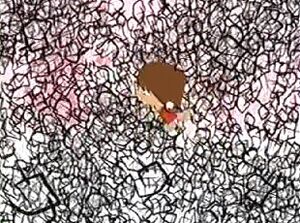 Scribbles
are known as the first imaginary friends created by infants. They are practically incomplete due to them just being "scribbles".
While the Scribbles were initally thought of as "bothersome" and "mindless," it was revealed in The Trouble With Scribbles that they can be a great help around the house. Each Scribble, when given a simple task, will do it efficiently, while greater numbers of scribbles can do increasingly difficult duties. For example it takes three Scribbles to do the dishes: one to wash, one to dry and another to put them away.
However, according to Bloo, each Scribble is only capable of doing one thing. If asked too much, they will "overload" and start shrieking until calmed down. At the end of the episode, it's implied that a Scribble can not change tasks as when there was one scribble left, Frankie hoped that it was a toilet scrubbing Scribble, but it was the one that blows raspberries, leaving Bloo with joy.